Dual-focus lens
Dual-focus lenses (DFL) are a revolutionary new type of lens for CO2 laser cutting.
DFL are intended to be used as a direct replacement for conventional lenses in some industrial laser systems and applications. The basic principal of the lenses coming from their title lies in existence of a couple of focal points. Complex design of these lenses allows to distribute an incident laser energy and deliver its calculated fraction into a secondary (lower) focus.
Especially designed to assist in a range of thick-section cutting jobs such lenses give the followings advantages: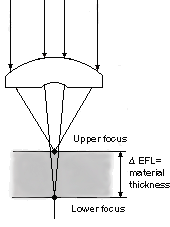 processing of increased thicknesses at a given power
increased process speed
improved kerf quality
elimination of upper and lower surface dross
immediate cut-initiation
reduced assist-gas usage
improved process control
Tydex proposed and has been using a novel approach in fabrication of DFL, which in particular did allow us to create DFL of cylindrical shape.
A specification below presents standard product. Custom-made sizes and specifications are available as well. Non-standard lenses can be designed and proposed upon certain RFQ.
Specifications:
1.
Type of a part:
cylindrical dual-focus lens
2.
Material:
CVD-ZnSe
3.
Overall dimensions, mm:
25.4 (+0/-0.25) x 25.4 (+0/-0.25)
4.
Thickness, mm:
4.0 (+0.5/-0.0)
5.
Radii of curvature:
the values depend on required combination of EFL
6.
EFL tolerance @ 10.6 µm, %:
+/- 2
7.
Stripe width, mm:
4 (+0.5/-0)
8.
Surfaces quality, scr/dig:
60/40
9.
Surface figure, fringe:
8
10.
AR Coating reflectivity per surface
10.6 µm, %:
< 0.5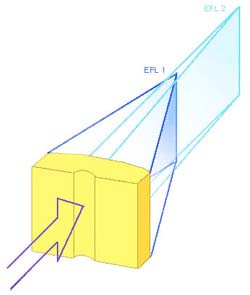 Fig. 1 Cylindrical DFL working principle.
Tydex supplies cylindrical DFL with the following EFL combinations: 127 & 254 mm, 169 & 254 mm.
Please fill in our request form for price quotation and delivery.