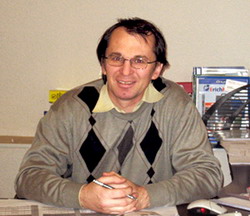 Valery Nikolaev
Deputy General Manager
Tel: 7 - 812 - 3346701
Skype: valerynikolaev_t
Send an e-mail
Valery is one of the oldest members of the Tydex staff, who has been working for the company since the beginning of 1996. During this time he has risen from commercial department sales engineer to general manager deputy. In the course of the company growing and changing directions for the development Valery takes part in market promotion of different products, forges relationship with optics suppliers and producers in Russia, manages new optical component producing. Various activities and duties have made him an expert with encyclopedic knowledge.
In 1996 he graduated Saint-Petersburg State Technical University with a degree in "Physics" "Physics of space" specialization. From 1994 to 1996 Valery worked for Ioffe Physical Technical Institute, where investigated and developed small-size mass-spectrometers and mass-spectrometer analyzer modules. As the result of his work was mobile mass-spectrometer for environmental situation on-line monitoring in the field.
At the present time Valery is in charge of the company instrument department. Its main activity is producing and selling devices (Golay Detector, Hardware-software Complex for Operating Golay Cell, Golay Detector Calibration Set GC-CS, Lock-in Amplifier SU-1, Pulsed Terahertz Spectrometer, THz Scanning Fabry-Perot Interferometer, THz Impulse Radiation Electro-Optical Detector, RF Thermoacoustic Detector ТАD-1), large-size optical elements (astronomic mirrors, large-diameter lens optics) and off-axis parabolic mirrors. Besides he deals with the matters of the company daily living.
Valery was born in 1971, married and has two daughters.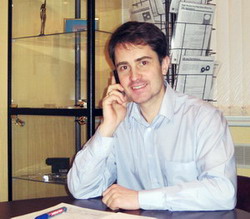 Vladimir Kopchatov
Project Manager
Tel: 7 - 812 - 3346701
Skype: vladimirkopchatov
Send an e-mail
Vladimir was born on 24th May, 1973 in Murmansk at the Kola Peninsula. He graduated from the Baltic State Technical University (St. Petersburg, Russia) with honours and received an M.Sc. in Engineering Mechanics in 1997. He specialized in optics, lasers physics and applied laser systems at university.
From 1995 he worked for the Centre of Nanoheterostructure Physics at the Ioffe Physico-Technical Institute of the Russian Academy of Sciences, where he investigated and improved performance of quantum-size semiconductor laser structures.
In 2000 Vladimir received a Ph.D. in Physics and Mathematics from the State Institute of Fine Mechanics and Optics (St. Petersburg, Russia).
He has had over 20 articles published in physics journals and conference papers.

Vladimir joined Tydex in 2000 as a sales engineer, and from 2004 to 2014 headed the commercial department. His main duties included monitoring and coordination of relations with customers, as well as all the commercial activities of the whole company, expanding the range of products and introducing advanced technologies for their production. His current position and activity are focused on the key clients of the company to maintain, strengthen and develop relationships.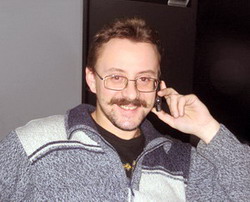 Alexander Timofeevsky
Optical Coating Department Manager

Tel: 7 - 812 - 3346701
Tel: 7 - 812 - 3348329
Skype: alexandertimofeevsky
Send an e-mail
Alexander was born in 1973 and have an MSc degree in Physics specializing in methods of mathematical physics.
He joined Tydex in 1997, following post-graduate study at the Faculty of Physics of St. Petersburg State University. The company was growing fast and was being active in almost all fields of optical business. That gave him the opportunity to experience the widest range of optical components and materials, from UV to THz, from just protective windows to precise laser active elements. Due to a shortage of specialist staff, each of them had to provide complete support to his projects, starting from discussion of technical details with the customer, through to buying raw materials and supervising the manufacturing process to final QC, customs clearance, billing and collecting payments. Thanks to this, he knows the complete business process in Tydex ab ovo usque ad mala.
As the company evolved Tydex began to run our own production workshop, QC department, logistics department and commercial unit. During this expansion, the company dropped some activities to focus on the fields where it was the strongest and the most competitive. Sales engineers in the commercial unit share these fields such a way that the customer gets the feedback to his request from the most qualified person in the field of his interests.
At present Alexander is an optical coating department manager. He is also responsible for supervising the development of new challenging technical issues in the company. For example, he headed the establishment of the spectroscopy measurements department, the modernization of our interferometers and participated in elaborating the Golay Detector calibration procedures. He also supervised the evolution and support of the corporate network.
During his work at Tydex Alexander has represented the company at over a dozen Russian and international conferences and trade fairs. His English is fluent.
In his spare time he enjoys field archaeology.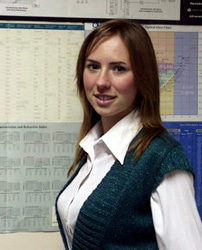 Ekaterina Tsygankova
Sales Engineer
Tel: 7 - 812-3346701
Skype: ekaterinatsygankova
Send an e-mail
Ekaterina is responsible for sales in the following product lines:
- THz optics
(see chapters:
THz Polarizers
- Optics for IR/FTIR spectroscopy
- Optics for Pyrometry and Thermography
(see chapters: